Blog — Feel-good Books
Posted by Bijal Shah on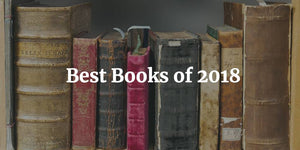 It's the holidays and the perfect time to catch up on all your holiday reading. Here's our roundup of the books in 2018 that have touched us, made us laugh, made us cry, made us think and wonder with awe and made us fall in love with reading all over again. Any others that should be here? Feel free to comment below. Book Therapy's Best Books of 2018 Best Literature and Fiction Books of 2018 1. Circe by Madeline Miller Circe by Madeline Miller Poetic fiction based on the fascinating story of the peculiar daughter of the sun god, Helios. Choosing to build relationships with mortals on earth, Circe discovers...
Tags:

best books 2018, book prescriptions, book recommendations, David Sedaris, Feel-good Books, Haruki Murakami, James Patterson, Kate Atkinson, Madeline Miller, Markus Zusak, Michael Lewis, Michael Pollan, Michelle Obama, personalised reading lists, reading lists, Recommended Reading, Sally Rooney, Stephen Hawking, Tara Westover, Tomi Adeyemi, weekend reads, why everyone needs a book therapist in their life
Posted by Bijal Shah on
Sometimes we all crave a comfort read just to temporarily get us through a challenging situation that is mentally draining. We may want to simply pass time or take a break from a tough day. Other times we need to find hope again and remove ourselves from the despair that clouds us. For me personally there has been a lot of change over the last couple of years with moving countries and having babies. To get me through stressful times and cope with the constant change I went in search for some literary escapism to reaffirm my faith that everything...